Using Newsflow, the Pride East network streamlines the process of gathering media
The premier regional media organization serving the entire Northeast Indian region is Pride East. They are renowned for using modern software in the production of news. They were seeking a tool that could simplify their media collection process, address the limitations of the old-school media gathering technologies, and be simple enough for non-technical users to utilize.
Newsflow is a tool that allows users to gather and process media from a variety of devices. The app offers many features, including Integration with Asset Management & NRCS systems, resumable file upload protocol, support IOS, Android, and Web, and provides location tracking and real-time notifications. This tool has been instrumental in helping the Pride East network to streamline the process of gathering media.

Challenges faced
The Pride East relied on various makeshift methods for sending media. However, this caused a lot of challenges like inefficiency and many more. The volume of content produced was fairly significant due to the 24-hour news channel's coverage of more than 8 states and its 50 reporters. Users were accustomed to sending media via email, WhatsApp, and FTP.
One challenge of using traditional methods to send media was that it lacked user management and a trail of auditing. Another challenge was that the media was shot in a variety of formats and it needed there was an additional transcoding step necessary to convert files to house format.

Solutions
Workflowlabs Newsflow solution was deployed at the head office, in a phase-wise manner all ad-hoc methods of sending media were disabled. Thanks to the simple user interface of Newsflow the users got adapted quickly. Newsflow became the universal tool to send all files to the head office. The high-performance transcoding module of newsflow was also deployed to enable a standard output format.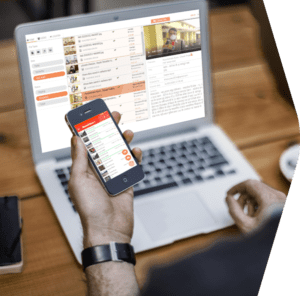 "Newsflow has been a great tool for our multimedia team. We've been able to streamline media gathering for multiple teams in one place to help us be more organized. This has helped our workflow tremendously"                                   
Results
Through the use of Newsflow, Pride East has been able to streamline the process of gathering media across devices like mobile and web.
By creating a single route for all incoming content, and automating the process of gathering and tracking news sources, they have saved time and energy that can be put towards other areas of their operation.
In addition, by using a built-in transcoding solution, go-to air time was cut down by a significant amount.
For Full documentation of the audit trail and reporting Newsflow is been used, through which they have been able to quickly find the most relevant and timely information for their needs.
Newsflow's social media login feature has been a beneficial option for freelancers who used Android devices
After the installation, Newsflow was the preferred method for sending all material to the main offices. The channel's affiliated bureaus, freelancers, and reporters now had a single platform they could rely on.